📢 1st Season Benefits by Play Card Tiers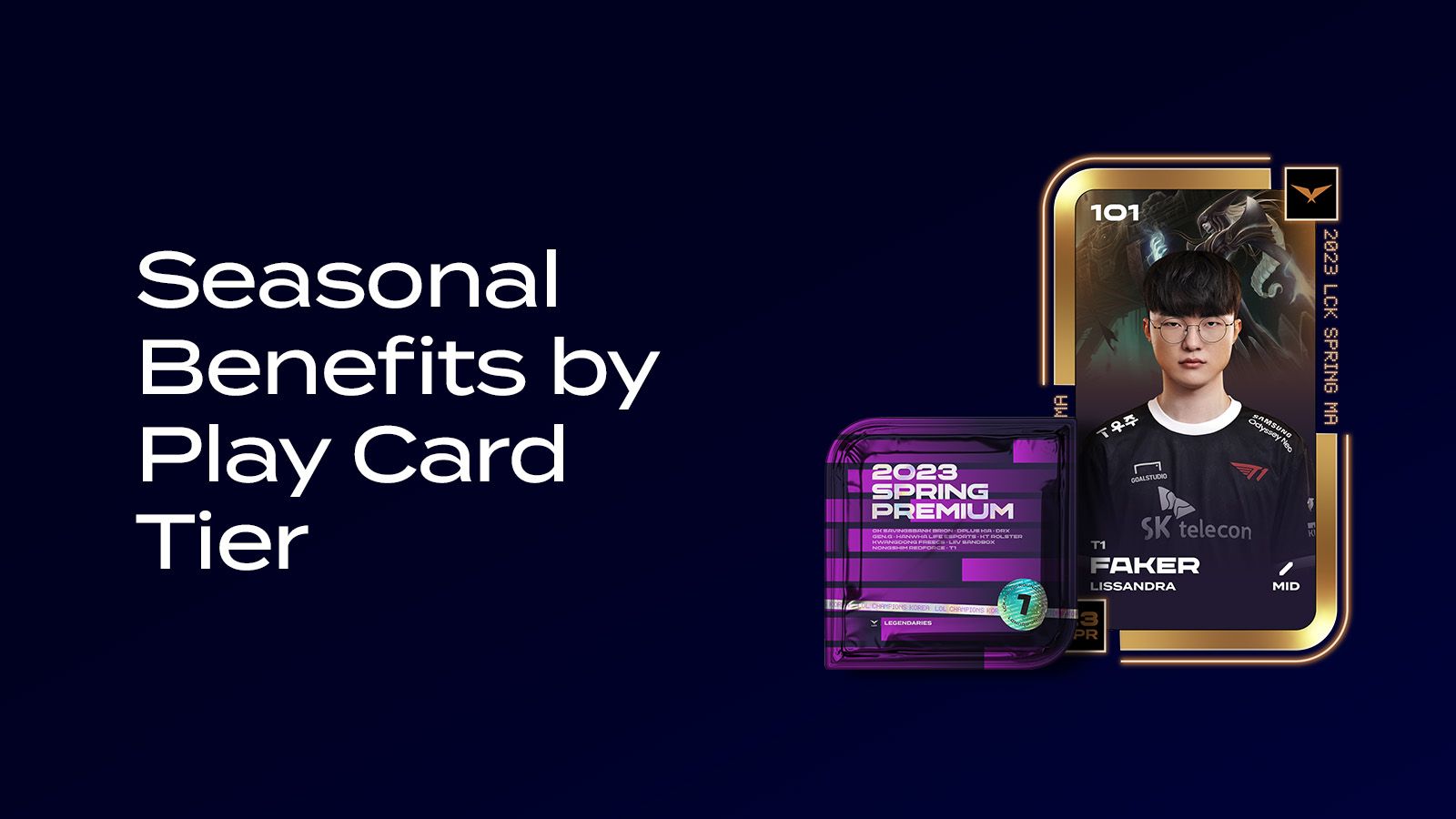 Hey there, Legends!
Are you enjoying the 2023 LCK Summer Split matches? Recently, LCK LEGENDARIES released the "2023 Spring Season Pack" series, which features exciting highlights from the previous season. Among them, the 2023 Spring R1 pack, containing Round 1 matches, was unveiled first. In addition to these packs, there are also Welcome Pack, Starter Pack, and PRM Pack available for our new legends. Have you noticed what they have in common?
Well, it's that they all offer the chance to obtain play cards.
---
1. What are play cards?
Play cards can be obtained through the "Season Pack Series" and "Concept Pack Series." With these cards, you can not only enjoy highlight videos of each player's in-game performances but also view their photos, player names, team affiliations, positions, champion names, and match information (including the season, date, opposing team, set score, etc.), as well as their OVR (Overall) scores.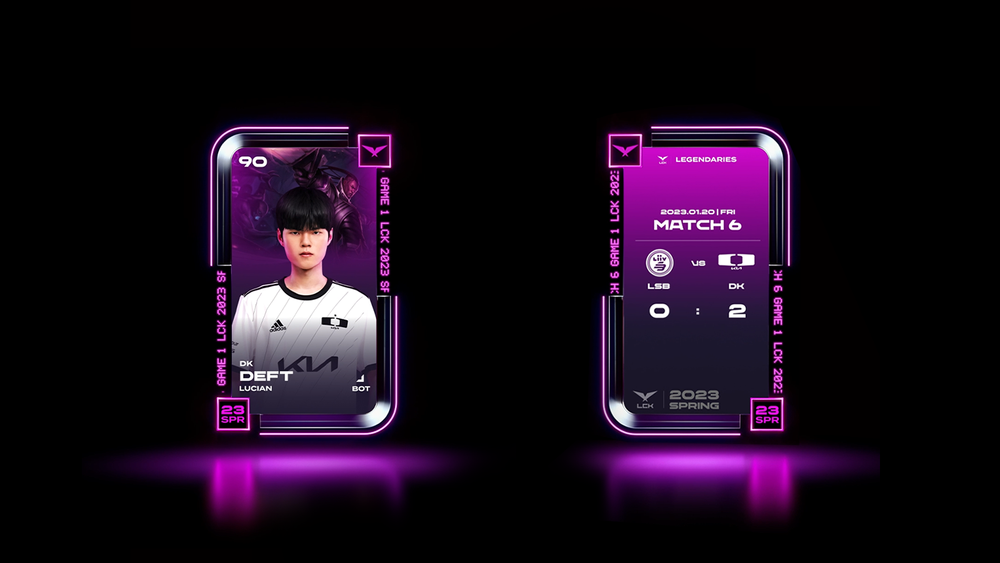 2. Play card tiers
Play cards come in four different tiers, distinct from 'Special cards.' They are categorized as COMMON, RARE, SUPER RARE, and LEGENDARY. The tier and quantity of play cards obtainable vary depending on the type of pack.
Currently, through the released 2023 Spring Season Pack series, you can acquire play cards of tiers COMMON, RARE, and SUPER RARE. Stay tuned, as information on how to obtain LEGENDARY-tier cards will be announced soon. Your continued interest is greatly appreciated.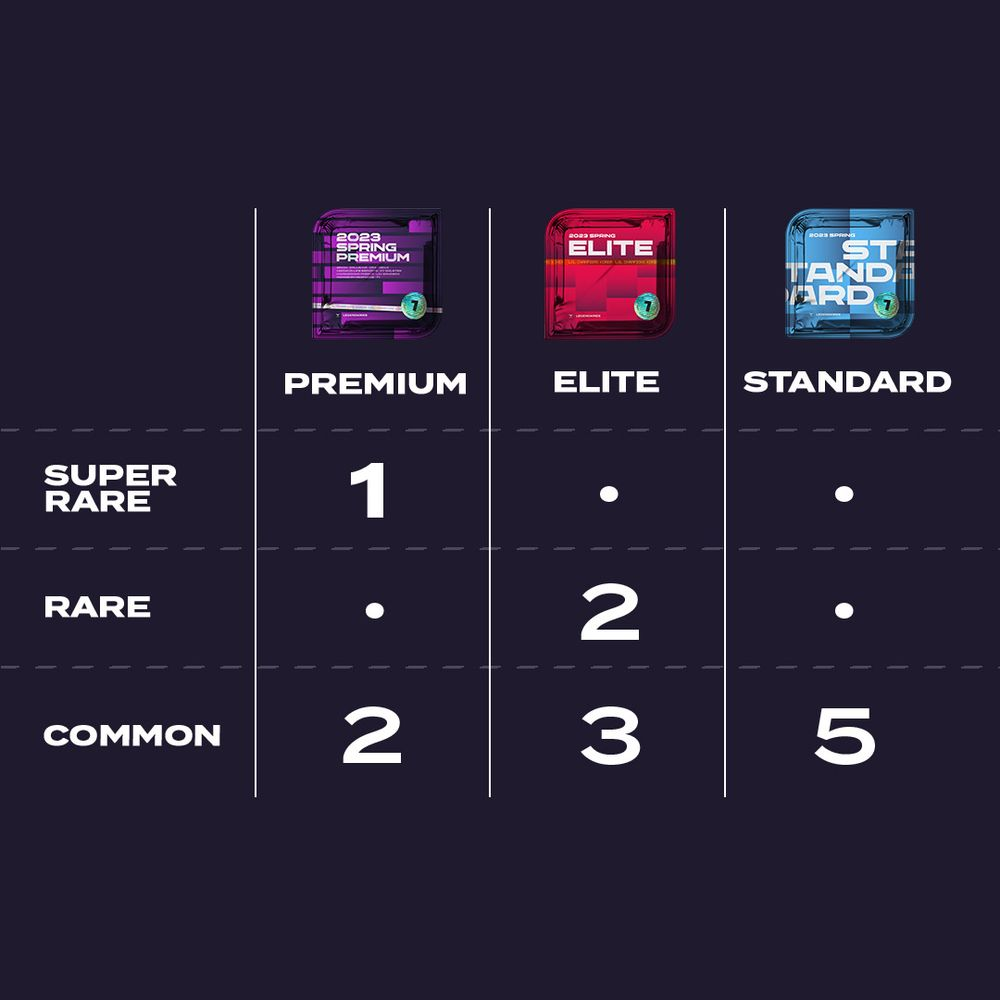 3. Benefits of this season's play cards
Unlike POG tickets, the play card benefits are operated on a semi-annual season basis. POG tickets, which provide special cards (POG cards) as the basic benefit, are sold exclusively during the ongoing league period. However, the "Season Pack Series" and "Concept Packs," which allow the acquisition of play cards, will be released on an individual schedule regardless of the ongoing league schedule.
This 1st season runs from the opening day on June 7, 2023, until December 31, 2023. During this period, benefits will be provided based on the play cards you acquire through pack purchases or the marketplace and hold in your My Collection. The benefits may vary slightly depending on the season, and additional offline benefits may be updated during the season. Please make sure to check the details of each benefit in the table below, as the criteria may vary slightly. LCK LEGENDARIES will continue to provide benefits that create a more special LCK league experience. Your support and anticipation are greatly appreciated.
---
This week, in addition to the play card benefits revealed today, there will be another piece of new information updated. Can you guess what it is? we've already given you a hint above :)
Please look forward to this coming Saturday!
KEEP IT LEGENDARY!
Thank you.